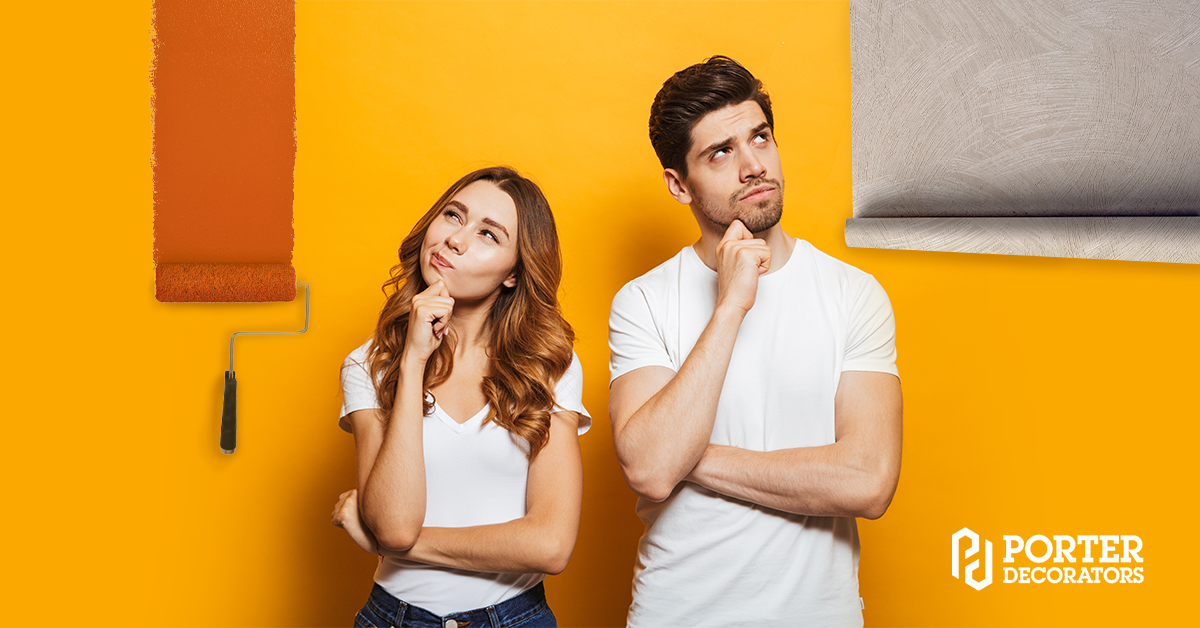 9th November 2021
Picking out the perfect colour or tone for your walls is challenging. Apart from the diverse designs and colour options available, you must choose between wallpaper and paint. These two offer great benefits, hence, it's hard to decide which one to use for your project.
Porter Decorators have put together this comparison guide so you can weigh up your options a little better.
Both have their pro's cons and obvious differences, so let's delve in and have a look.
Wallpaper
Wallpaper has made a comeback as a trendy design choice in recent years. We are finding many homeowners using it in their busiest rooms, including the living room and dining room. There are many material choices for wallpapers, including fabric, vinyl, non-woven, and paper backed. You can choose sizes based on the design and the room you want to use it in,
Pros
It typically has a better visual appeal

Durable

Holds up to wear and tear of high traffic areas

You can scrub it to clean

There is an endless supply of unique designs
Cons
You cannot use wallpaper in high moisture areas due to the adhesive used.

Removing it could be quite messy, so you will want to be sure of your choice.
When to Use
Wallpaper is best for design purposes as there are many creative patterns you can choose to create a unique look. Paints won't do much justice when you highlight a couple of walls or even pillars. Wallpaper designs tend to stand out, especially with a combination of wallpaper and paint.
Bedrooms or rooms with low humidity or moisture are best for wallpapers, so they don't get wet or damaged. It's also an excellent fix for damaged walls.
Price
Depending on the material quality, the average cost of wallpapers lies anywhere between €20 and €50 per roll. If there is a particular design that appeals to you, let us know at Porter Decorators and we may be able to source a more affordable option.
Paint
Paints are top-rated for homes and apartments and have been the default in many regions for a long time. The most popular paint options available today are distemper and emulsion.
Development has led to better emulsion paints, which are anti-fungal, washable, and VOC-free. This makes outdoor cleaning pretty easy, simply let the rain do it, or wash it with a low-pressure hose.
You have the option to mix and match distinct types of paint depending on what you're trying to achieve.
Ask for samples of some of our work so you can see what we do.
Pros
Inexpensive

Straightforward application process

Gloss paints are durable

Requires minimal maintenance

Far less preparation time than wallpapers
Cons
When to Use
Paints are ideal if you want a cleanable or washable surface, depending on which room you want to decorate.
Choose wisely for each room. Will it be the kid's playroom or the living and dining room? We suggest cheaper paints for the kids, so if accidents do happen you won't be too phased.
Rooms with humidity such as the bathroom and kitchen might not be compatible with wallpapers because they can get wet and damaged. In spaces like this, paints are the best choice to keep it looking good.
Price:
Painting prices depend on the room size, complexity and paint chosen. It's best to discuss the cost directly with Porter Decorators.
Final Thoughts:
We suggest looking at samples, either from us or your friends and family and look at the design they have. What appeals to you? All paint, all wallpaper or a combination of both? No matter your choice we are always happy to help here at Porter Decorators.