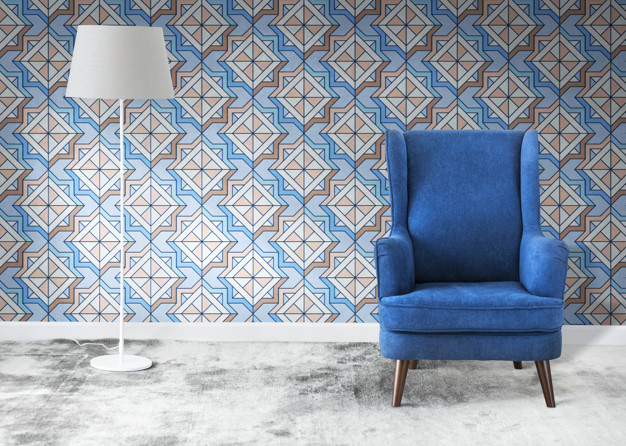 16th December 2020
Wallpaper, you either love it or hate it. Many of our customers are converts to the aesthetic appeal of wallpaper having grown up with old and uninspiring wallpaper designs. 
We have renovated and decorated many homes with dated interiors, many of which included wallpaper. he fact of the matter is, inspiring and beautiful wallpaper can make every room in your home appealing colourful, and quite artistic. Gone are the days of drab colours and stencil designs, wallpaper is artistic and when done correctly can look better than any paint, wood, or concrete finish.
Every room in your home can benefit from a beautiful wallpaper design. If you are interested in a quality professional finish without personal responsibility, Porter Decorators are always on hand to your house a home. 
A quality, affordable finish can be found in every room in your home, so let's delve into some of the rooms which can benefit from beautiful wallpaper designs.
The Bathroom

– While it is a relatively small space compared to other rooms inside your house, the bathroom is arguably the best place to have wallpaper installed. Why so? Well, due to its relatively small size, you get the chance to play around with many different patterns to achieve the design that you want. Furthermore, you don't have to wallpaper the entire space, a specific side will do simply fine. The result is a luxurious and inviting bathroom that makes you feel like you are in a different world. 

The Bedroom

– For many people, the bedroom is a safe space, a private room where we sleep. Why not add an element of drama and surprise? Apart from making the room look more luxurious, it allows you to play around with colours and designs to achieve the perfect fit. You may choose to use wallpaper to highlight a specific aspect of your room, say, the bed. The options are unlimited.

The living room

– This may be where you spend the most time with your family. Why not spice up the space using a simple wallpaper? With the living room, you have the option of using your table and chair colours to choose the wallpaper design. This way, you get to achieve a central theme that gives your living room a rich inviting look. Overall, with a spiced-up living room, you might find your family spending more time together. 

Home office

– Of all the rooms in your house, this might be the most suitable for wallpaper installation. You can add an element of professionalism when you install wallpaper in your home office. A completely different aura separates this specific room from the rest of the house so that you get to work in peace and achieve your professional goals. 

Dining room

– Who said your dining room doesn't have to look pretty? Adding a wallpaper will bring out a tone of drama that makes the experience more exciting. 
As we have said wallpaper may not be for everyone, but as you can see, wallpaper also does not have to be for every room. Check out our gallery or have a nose in a friends' home for beautiful wallpaper designs and ideas that can truly do wonders for your home