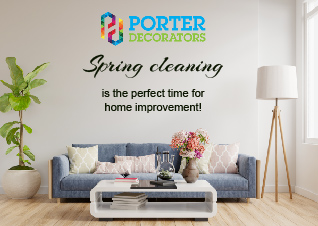 18th March 2021
After a long winter where you probably spent most of your time working from home and lounging inside, it's now time to start your annual spring-cleaning session and bring a new lease of life into your home. Since now is the time to open your windows and let the fresh, spring air enter your house or apartment, it might be a great idea to revamp your rooms and turn a cluttered home into a well-decorated area perfect for entertaining and socializing.
Why spring is the perfect time to repaint your home?
First impressions matter
Bad weather and snow usually impact how the exterior of our homes look, and chipped paint or damaged facades are never the look we're going for.
Spring provides ideal conditions to allow the paint to bond to your house well – the warm sunshine and rising temperatures provide optimal conditions for a repaint. Rain, fog, snow, and extreme temperature changes usually prove to be very damaging to our houses, so a yearly spring paint can save you a lot of money on repairs in the future and assure your house is looking as fresh as possible.
A simple layer of paint can entirely change the way your house looks
Often, we think that to give our homes an appealing look, we'd have to spend a lot of time and money. But a simple repaint can change the look of your home entirely, making it seem polished and well-maintained. For repairs that you can't afford right now, adding some paint can hide problem areas and turn your slightly warn-out home into an inviting oasis that looks stylish. Choose a palette that best displays your personality and taste.
Fresh start
No matter how much effort you invest in your spring cleaning, the effect simply won't be complete if your walls are cracking and peeling. Use the time to solve two problems at once – a fresh layer of paint will surely help in making your home a clean and inviting place. Since we don't even notice the damage our walls gradually suffer, you will be shocked to realize just how much more a simple repaint can do to the overall atmosphere of your home.
Boost your sales value
Maintaining your home well is a rewarding investment, often overlooked by many. Even if you're not looking to sell right now, it will save you time and money in the future should the opportunity arise.
Painting your home in earthy tones of beige and cappuccino can help you turn what was once seen as a modest house into upscale real estate captivating the gazes of aspiring buyers.
You no longer must do it yourself
Many avoid spring painting because they're not particularly good at it or lack the time. While it's completely achievable to give your house a new look by yourself, a team of experts can relieve you of the task that you would prefer not to do. Let the professionals take care of it, while you reap all the rewards.
Prepping the walls and deciding on a colour pattern that beautifully blends with your home decor can be difficult for some, and if you find yourself doing it alone, it can be quite time-consuming.  Hiring professionals from Porter Decorators, can help you achieve gorgeous, lasting results whether you're working on the interior of your condo or completely revamping your residential home.