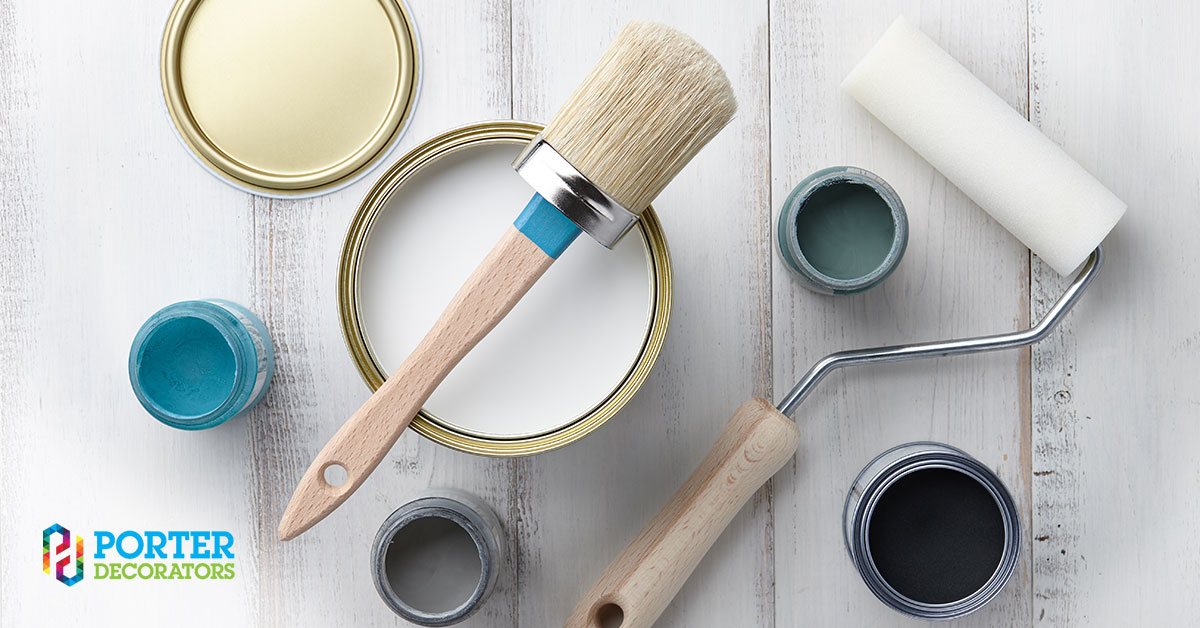 11th January 2022
The team at Porter Decorators has spent many years as professional painters and decorators. We have been around construction and renovation projects and are happy to share some of our knowledge with you. We have compiled the following painting tips and techniques to help guide you when doing your own painting project. However, please feel free to contact us directly with any questions or to organize a free no-obligation decorating quote. 
Which paintbrush do I use for various types of paints and different tasks?
A common question we hear is about which brush to use for different tasks. Getting the right brush will ensure the task is easier and looks its best when complete. Good quality tools help professionals achieve even better results. We typically advise homeowners to get the best brush that your budget will allow.
A natural bristle paintbrush is made from animal hair and is very soft and porous. For oil-based paints, most professionals choose a natural China-bristle (hog hair) paintbrush.
If you are painting a smooth surface with oil-based paint, a natural White Bristle paintbrush is your best choice because it is soft and supple. When painting a textured surface, a natural Black Bristle paintbrush will work better, because it is stiffer and has superior abrasion wear. When you require an ultra-fine finish, a brush blended with ox hair is the best choice. Use a good brush cleaner to wash out solvent-based paints and if you are using water-based paints, make sure that after cleaning you store them somewhere dry. 
What is a Masonry Brush? This is a generous long bristled brush with a strong firm texture – usually made of natural bristle. Holding the brush closer to the stock will allow better control rather than on the handle alone. 
Synthetic filament – When your choice in paint coatings is water-based (frequently referred to as latex-based paint), it is absolutely essential that you select a synthetic filament paintbrush. 
Brushes that include a blend of polyester, tend to maintain their bend and recovery (or flex) better than brushes made of 100 percent nylon. This characteristic enables professional paintbrushes to perform consistently well in warm, humid weather conditions. Look after these styles of brush and they'll last for years of work. Make sure you get all the paint out of the bristles before storing them away and if you get bent bristles, dip in hot water and they should regain their original shape.
When painting exclusively indoors under controlled climatic conditions(not very common for DIY in Ireland), a 100 percent nylon paintbrush is a great choice, because stiffness retention is not as critical a factor. 
Dusting brush – A dusting brush is an essential tool for painting professionals. This brush has nice long soft bristles and is used for brushing the dust off surfaces after sanding and before applying paint. These are good to have in your DIY bag for many types of projects. Dust-free environments are essential for getting a professional finish. 
A fitch brush is the last paintbrush that needs to be in your bag. These can be round or flat and are useful little brushes for touching up little areas and getting into awkward nooks and crannies (like behind pipework and plug sockets). Many people describe these to look like artist brushes but are typically stronger and more appropriate for DIY tasks. 
Is there a difference in paint rollers and which one should I use?
Most people believe that all paint rollers look and feel similar, but it's important to keep the following painting tips in mind to achieve professional painting results:
Woven roller cover – Paint rollers that are made of woven material, are virtually shed-free because they are made out of continuous yarn. Every thread that makes up the face fabric is locked to the back of the fabric. These roller covers are recommended for smooth surfaces such as doors, paneling, and smooth walls.

Knitted roller cover – Paint rollers that are made out of knitted material are usually used for rough or semi-rough surfaces, such as rough-cut siding, stucco or textured walls and ceilings. This is most likely for garden or masonry applications. This roller cover contains a high-density material that will hold a lot of paint without dripping.

Selecting the pile of the roller – The more texture desired, the higher the pile should be. A 1/2-inch plus pile height is ideal for a stippled effect common to most homes. Conversely, if you desire a smooth finish in your kitchen, bath, or utility room, use low-pile 1/4-inch to 3/8-inch roller covers. 
Looking for professional painting advice, talk to the team at Porter Decorators. We can give you a no-obligation quote. We work primarily in the County Laois area but can travel to surrounding areas when necessary.