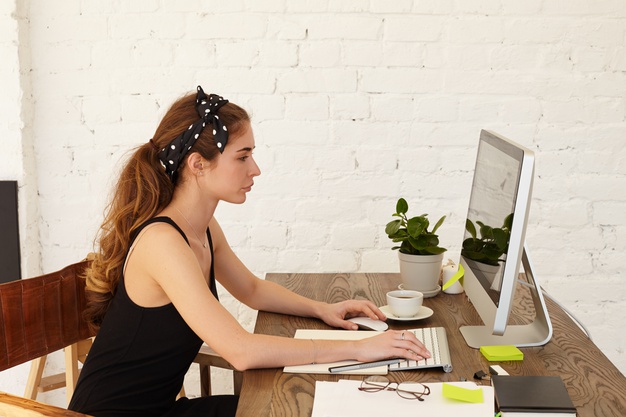 1st November 2020
Do you find yourself working from home lately? Many people do. 
Have you found yourself struggling to get work done as you have too many distractions?
It's important to find a good balance that allows you to get work done and feel comfortable in your own home. At Porter Decorators we have worked on many homes and offices and we have a feel of what works for our customers. 
Have a look at these 6 tips we have found helpful in creating an inspiring, comfortable, and productive home office. 
Turn that cluttered room or quiet corner into a pleasant, peaceful oasis with these tips!
Make it Bright
Any decorator or painter will tell you adding a little brightness is the right way to start. Working from home can get a little draining but having a designated area that you feel comfortable in will certainly make the task more alluring. Add a splash of color, a nice painting or something else which inspires you to work. Bright is always best and you can check out more ways to do that here. Alternatively, why not go for a more upscale wooden work-desk to motivate yourself to achieve your goals? 
    2. Organization is key
Somehow, in the haze of long-stretches of Zoom meetings, you might find your home office becoming easily cluttered with papers and work files. An organized office translates into a more focused state of mind, which is why it's essential to organize the room to the best of your capacity. Resist the temptation to purchase cheap plastic storage bins and instead opt for a more sustainable solution, such as gorgeous desks full of practical drawers or a nice bookshelf that will prove to be a good solution time and time again.
   3. Keep it clean
Do not turn your home office into a lounging area by drowning it in unnecessary details. Invest in key pieces that you need, instead of purchasing a plethora of distracting details items that draw you away from work. Try to make the room breathable and neat by mindfully choosing pieces that reflect your style, but don't tempt you to procrastinate. 
Although it is easy to fall for charming details, a room too colorful or intricately designed, full of redundant elements, isn't likely to result in you achieving the heights of your mental capacity. 
   4. Make it inspiring
If you find creative solutions to make the decor of your home office inspiring, you will find yourself well organized and centered around completing your tasks. 
One lovely, budget-friendly idea that blends aesthetics with the good organization is painting one wall with chalk wall paint so that you turn that wall into a stunning blackboard where you can write down your assignments and find your path to achieve everything from your to-do list promptly. 
   5. Bring some nature
Adding some greenery to your home office is an excellent idea. Bringing some life to the room, purchasing a few plants is a gift that keeps on giving. Why not add a few low-maintenance cactuses or fragrant spice herbs to achieve some breathability and help you focus better?
   6. Let the sunshine in
Letting in some natural light by removing curtains is a surefire way to add some vibrancy to your home office. If your home office isn't among the most illuminated places, buy some lamps that imitate sunlight and invest in lighting that you won't find tiring – your laptop shouldn't be the only source of light in the room.
For other tips and tricks on making your home and office a more comfortable place have a look at our blog.